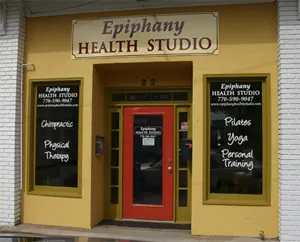 Dr. Diana Salzmann:
Your Body's MechanicChiropractic:
Chiropractic care is available to ensure the maintenance of proper body mechanics. Whether you are an athlete wanting to move to the next level, recovering from injury, or attempting to get in shape for the first time, insuring proper joint function is critical to achieving your goals. Dr. Diana Salzmann utilizes her training in sports injury and extremity adjusting as well as 23 years of practice experience to customize a safe program to optimum fitness.
Dr. Salzmann created Epiphany Health Studio to address the major cause of patient's requiring chiropractic care: our bodies aren't made for the lives we are living. We were not made to sit in front of a computer screen for six hours a day. Our bodies weren't created to sit in front of a television while consuming empty-calorie packed junk food. We were designed to move, to bend, and to stretch.
To get from where we are to where we want to be requires a master plan and a strategy. Dr. Salzmann and her certified yoga and fitness instructors will design a program specifically to move you safely along the path to feeling great and leading life to its fullest.